The next generation of the NOOK e-reader was presented by Barnes and Noble, forsaking the E-Ink they have decided to have it in color.
While Amazon stayed loyal to the kindle format and took the whole "iPad idea" heads on, Barnes and Noble decided to innovate and to take their e-reader to the next level, on Apples court by adopting the color display and teaming up with Apple's arch nemesis- Google's Android.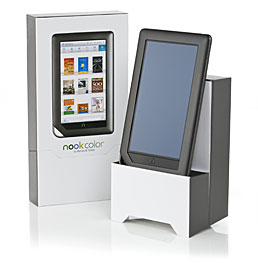 Although the NOOK is marketed as an e-reader, I cannot treat anything else then an another Android tablet. A quality one since it was designed by Barnes and Noble and the NOOK was pretty cool.
Yes I know, it is designed for reading and users will have limited options, however this tab will also have the abillity to play movies and to play music.
With other features such as WiFi, 8GB internal memory and the option to expand using an SD Card, all that is needed to make it a fully functional Android Tab are root permissions.
There is no doubt that Barnes and Noble took a big risk, on the one hand they are forsaking the E-Ink (leaving the Kindle to be the last device with no color) and moving towards a market that is already dominated by the iPad and Galaxy Tab.
Barnes and Noble page
[Sponsored link]

Check our phone selection at Cellular Stream